truehobbit and Cerin: The cove that I referred to is right here: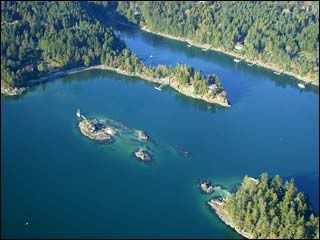 Our place is tucked away close to the head of the cove in the upper righthand side of the photo - you can just see the beginning of our property before it disappears into the shadows. We live on a small island just off the southern coast of British Columbia, between the mainland and Vancouver Island, part of a chain that we call the Gulf Islands, and the Americans call the San Juan Islands.
Voronwë, that photo of Bryce Canyon is stunning, simply stunning. It always astonishes me how light can give such life to the colours of the bare bones of the earth. Amazing.
Hobby. I've always admired that pic in your avatar. To see it in such detail is a real treat. It reminds me of the gossamer nets that some spiders weave all over the meadow and garden here in the autumn. I have a strange affinity for spider webs. I think they're the most beautiful and miraculous things.
Prim, I've never been to Yellowstone, but pictures of it remind me a lot of the lower slopes of the southern Canadian Rockies in my own province of B.C. I love your daughter's pose. The last photos my own girl permitted us to take of her was when we were travelling through Mexico when she was just shy of 13. I have this great pic of my mom and me holding her down between us on the steps of a ruined temple at Mitla, and she's actually laughing about it. Now, she insists on taking her own artsy-fartsy self-portraits, which, I must admit, are really very good. She's very much looking forward to taking a course in media arts next semester. That reminds me........some of the photographs your son composes are breathtaking. Will we be seeing some of them here? (she inquires hopefully)
Oh, and here's my submission for today:
Cathedral Grove, near Coombs, Vancouver Island.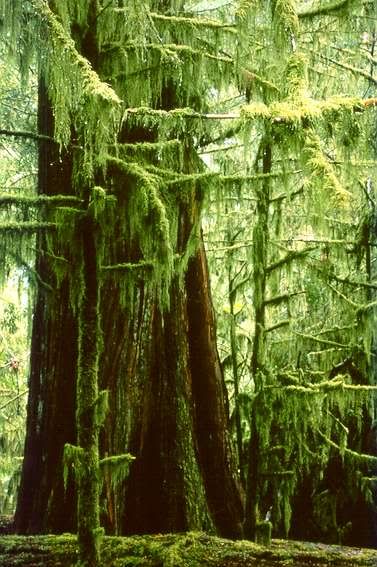 I think Treebeard would have liked this place.
for all teh pretty pictures, and the people who posted them!