I wrote this tonight, reflecting on a moment last weekend when I went biking through the neighborhood where I grew up.
It's the first sonnet I ever wrote in blank verse.
A Maple Stands
I view the corner yard: a maple stands,
tall triple-trunked majestic beauty. Leaves
around its base are gathered for the trash,
or children's games of diving in the pile.
I long to touch the bark, so silver smooth
it might reflect the sun. I blow a leaf
and watch it spin, and memory returns:
I see as in a mirror now the day
I placed the seed that grew to forty feet.
Its height has grown to pace my passing years.
I hope the boys and girls who live there now
don't hide inside, afraid to leave their screens,
but free themselves to dive, or hold their hands
to catch a spinning seed and dig the earth.
------------------
BrianIs
AtYou
_________________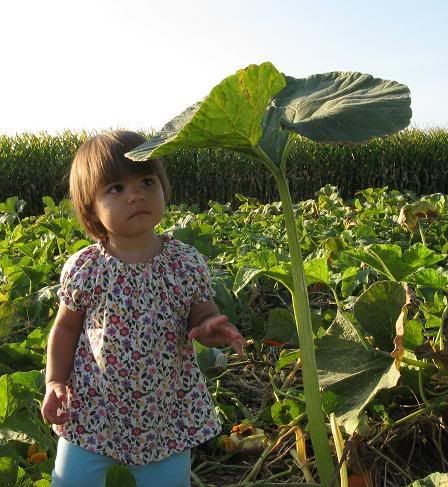 My niece, Humera, under a pumpkin leaf!