<<<Sw00000ns>>>
* for Voronwë's hibiscus (geez, that sounds more than a little rude, doesn't it?
) It's one of my favourite kinds of flower, you know. I've never noticed the five-sectioned "flute" at the end of the stamen before.........I love the way close-ups like this help me see something new in the familiar.
* for Mrs. Whistler's lilies (I just love the second pic, with the white lilies and red salvia.........lovely arrangement! Does your wife design the garden beds herself?)
* for Sassy's South Downs (the pastoral pic you posted earlier reminds me quite a bit of some of the farmland here, but this latest one has such a feel of the Shire to it)
Well, this morning I woke up to our first frost. My morning "commute" along a winding road lined with trees and meadows was glorious as the early light caught the fine white crystals that edged every branch and stem. Alas, fleeting beauty.............it's raining now.
But to honour the occasion: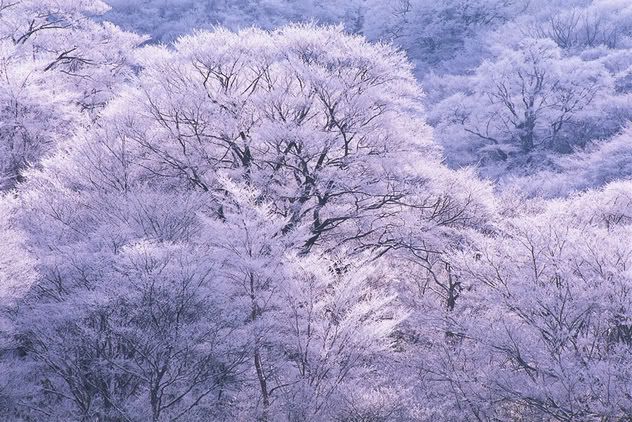 Frost covering the trees on a Japanese hillside.
I think some of the most beautifully serene landscapes I've ever seen have been in Japan and England.