I spent the early evening outdoors in front of Seven Stones Cafe, reviewing my brother's Phd thesis-in-progress over some Tuscan Chicken Soup. The weather was a balmy 80F with word of 90F+ to come this weekend.
I ran into Mac, a buddy of mine, and his wife and a friend. Mac is the dean of a local college and an accomplished clarinet player, who I've seen at some shows and local open mics. He and his wife were sharing some sinfully delicious pastries.
Kay and Ed, whose little girl Penny is now walking, came by, and I told them about the disappointment my sister-in-law had in her recent visit to Pakistan with my two little nieces, with 100F+ temperatures everyday, unsafe conditions, absurd restrictions on women and more.
I headed down to the end of the plaza, where some of my buddies were hanging out as they do many nights, along with a mix of some high school kids and families. Hank, with his dog Chili, Garrett smoking his cigar, and others.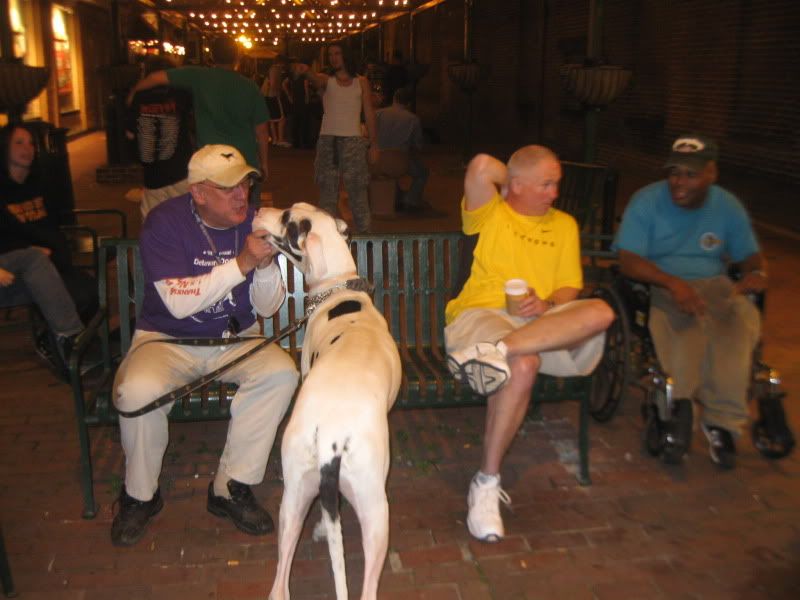 Hank and Chili, Dude with LiveStrong T-shirt, Garrett in wheelchair
Garrett says his custom bike is almost ready, and he will be doing another charity ride across the country. He may not have legs anymore, but his upper body is strong. He plans on doing Seattle to Key West next spring (a multi-week or multi-month venture) to raise money for charity, comparable to some other rides he's done before.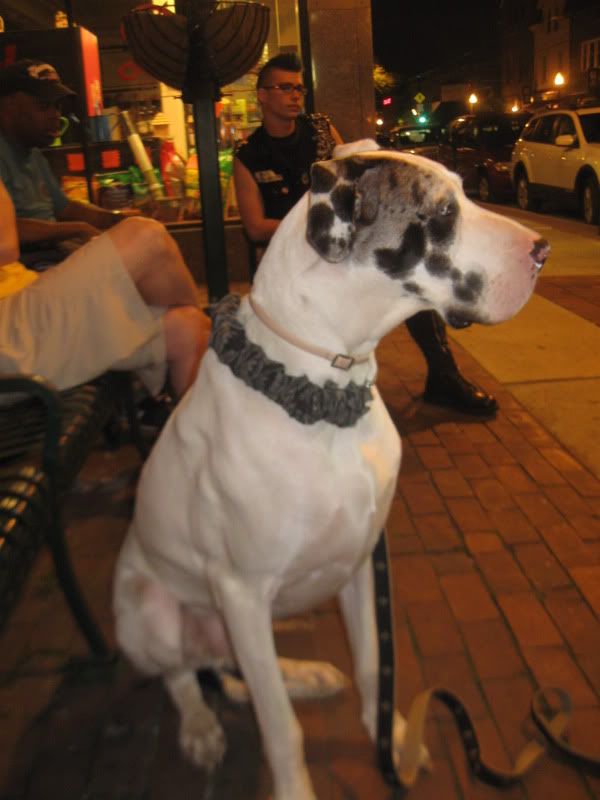 Chili looming large, Jake, a local punk rocker, in the background
I always thought Jen would have loved Chili. Her own dog, Coffee, was a bit smaller, but they would have gotten along. I was able to get a signal for my laptop and I showed Hank the video that Bob made about Jen's 5 year struggle.
I haven't asked Jen's husband Jake (not to be confused with the punk rocker) how Coffee is doing, so I probably should call.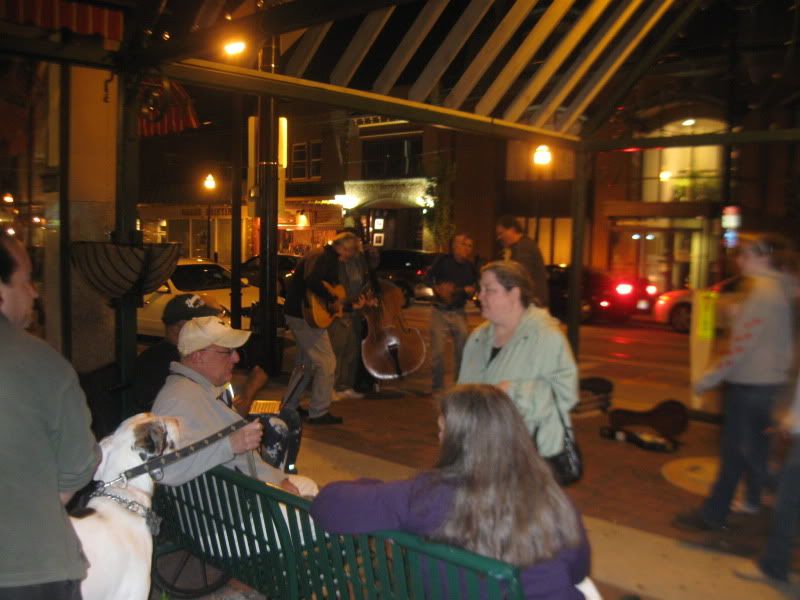 Sometimes the "Dollar Band" practices out here on the curbside, some old-timey stuff, or Beatle's tunes--did a great version of REM's "Everybody Hurts" the other night, but they did not show up tonight unfortunately. The picture above is from last Friday, a week ago.
As the night wore on and things broke up a bit, I headed off to the open mic at the Beanery, and I caught Nathan, Jim and Steve on guitar doing a mix of original songs and standards--Geraldine "Journey" did some of her poetry--she told me that I had inspired her with my own.
Mike and Jackie were there, and they told me that they're working on a new CD, and three of the songs I wrote will be on it.
A bunch of us headed over to O'Malley's for ice cream and whiled the night away. I showed Jackie and her friend some videos from the bonfire back in 2005 where the Druids crashed the party, and a few of my poems that she hadn't seen before.
The one video was of a druid girl singing an arrangement of Henry David Thoreau's "Nature":
NATURE

O nature I do not aspire
To be the highest in thy quire,
To be a meteor in the sky
Or comet that may range on high,
Only a zephyr that may blow
Among the reeds by the river low.
Give me thy most privy place
Where to run my airy race.
In some withdrawn unpublic mead
Let me sigh upon a reed,
Or in the woods with leafy din
Whisper the still evening in,
For I had rather be thy child
And pupil in the forest wild
Than be the king of men elsewhere
And most sovereign slave of care
To have one moment of thy dawn
Than share the city's year forlorn.
Some still work give me to do
Only be it near to you.
All in all, a good night.
Wish you were here.
BrianIs
AtYou
_________________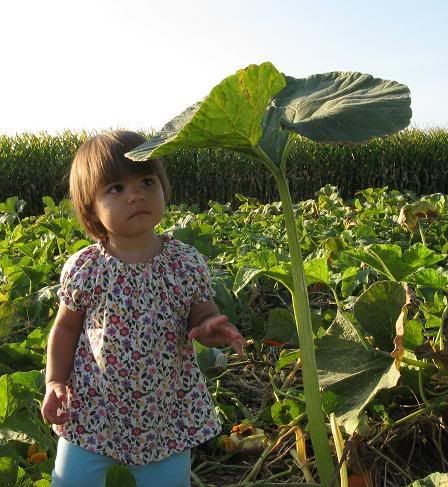 My niece, Humera, under a pumpkin leaf!