Seymour Boardman was my great-uncle (my mother's mother's brother). He has always epitomized for me the 'starving artist'. His paintings were just beginning to sell for significant money when he passed away this summer after a career as an artist that spanned 50 years and more. I am not generally a big fan of "modern" art, but there is a warmth to Seymour's paintings that I have always found attractive. Perhaps it is just a reflection of knowing him; he was absolutely one of the most gentle human beings I have ever had the privilege of knowing.
The last time I saw him was at a memorial service for my cousin earlier this year in New York (where, along with almost all of my family lived/lives). He was frail, but he always had been frail. He was excited about some new travelling exhibitions that he was going to be a part of, and pleased that he was finally getting some decent exposure and financial rewards.
Here is a link to a biography of him that also shows some of his work:
http://www.anitashapolskygallery.com/boardman.html
Here is one of his simplest paintings that I find strangely pleasing: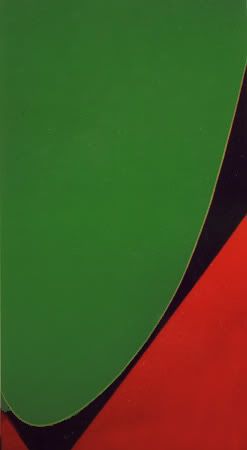 What a thrill it would be to learn that someone out there had actually heard of him or was at all familiar with his work. I did not really realize until he passed away that he was at all "known".
Ber?
_________________
'But very bright were the stars upon the margin of the world, when at times the clouds about the West were drawn aside.'